Published

May 7, 2022
blog
Surfboard Payments Premieres Products at Breakit's Future of Transactions Event
Stockholm, Sweden, May 6, 2022 - Surfboard Payments AB, a Swedish startup developing software-based payment solutions, attended the Future of Transactions event, hosted by Breakit on Wednesday, May 4th at Sergel Hub in Stockholm. Surfboard was supported by their friends at Google Cloud to showcase the company's newest proposition, an in-store checkout, Surfpay Connect.
The event was designed to promote both the newcomers and veterans of fintech as they further shape the market of a rapidly growing payment industry. Surfboard Payments, accompanied by Google Cloud, promoted their in-store check-out experience program, Surfpay Connect, which allows an Independent Software Vendor (ISV) to connect card-present terminals in 15 minutes. The platform allows ISV and merchants to leverage data in real-time with optimised algorithms and machine learning in regards to conversion and upsales.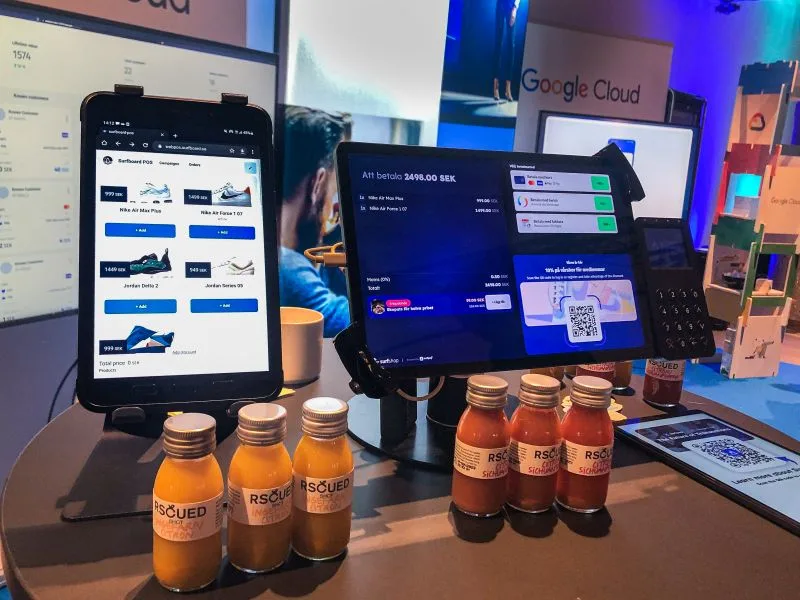 The company also showcased its highly anticipated Surfpay app at the event. Surfpay has, in the past, been offered to selected merchants around Sweden and is the first of its kind in the country to offer business owners the opportunity to accept contactless card payments on their Android devices. Thanks to their Tap to Pay technology, Surfboard Payments has managed to turn Samsung mobile devices into a full-scale payment terminal by leveraging the NFC chip found on the back of smartphones to enable contactless card transactions. Currently, the app is fully functioning on all Android mobile devices.
Those willing were encouraged to donate via Surfboard Payment's tap to phone app or in-store check-out solution. All donations were directed to UNHCR in support of Ukraine in exchange for a complimentary all-natural Rscued juice shot. The attendees could then track their donations with Surfboard Payment's real-time dashboard and watch throughout the day as sales continued to grow. The company was able to raise more than SEK 4000 for UNHCR during the event.
"The event was an important milestone," says CEO and Founder of Surfboard Payments Christopher Lindfeldt. "We demonstrated two inventive and fully functioning products, thanks to the dedication of our incredible team, contributed to a worthy cause, and deepened our collaboration with Google Cloud."