The payments industry is constantly evolving and with the latest standard from PCI for mobile payment acceptance support with Software based PIN entry on commercial-off-the-shelf devices (eg. smartphones) in mind, we are finally ready to change the old terminals into new customer facing screens with endless possibilities to enhance sales and loyalty programs significantly for the merchant.
These new mobile payment experiences, whether it's through NFC, QR codes, Bluetooth Beacons, or even a simple tap-to-pay function are all made possible thanks to this new standard. Why? Well, there was no use in having a customer-facing screen with offers, loyalty programs, and multiple payment options if the customer eventually would put their attention to the big plastic terminal with the physical PIN pad as everybody is so familiar with.
With benefits like tokenization of the payments, instant updates to all checkout screens from your dashboard, the possibility for the customers to pay with different payment methods like Swish, card, invoice, and even crypto and the terminals being faster and with higher security standards than ever before, we believe that this is something for every merchant to adapt to.
When we looked into the future a couple of years ago, we might've thought that the chip and PIN together with the magnetic stripe was something that would go away pretty soon. But it wasn't totally true. While the innovations to the in-store checkout experience are evolving with unmanned stores, shopping carts that scan the product when you put it down as two examples, most of the shopping in different stores all around the world is still the same. The customer enters, gathers items, and puts them onto the countertop where they are scanned and eventually paid for by card - which is still the most used payment method.
We are used to getting a lot of different payment methods shown to us when shopping online, but not in-store. Why is that?
Why the card as a payment method is so superior to the second most used method might have something to do with the fact that prior to the latest standard from PCI, the software-based PIN entry on screen that we talked about earlier, there was simply no room for improvement in that area. Sure, an implementation of a new payment method can be done on a separate screen from the current terminal with a physical PIN-pad, but the availability for the user would not be the same.
Think about it from a user experience point of view and how we behave online. During an online shopping tour, or even spree if you will, we are used to getting different payment methods shown to us just before we hit the pay button. Sometimes we take a pre-selected one since the website knows who we are and what we prefer to pay with, sometimes we buy something a little too expensive and choose an invoicing alternative so we can pay later, and sometimes we just go with the traditional method and enter our card details. What has arisen during the last couple of years is the buy now, pay later alternative that gives us the opportunity to get the products delivered before we need to decide whether or not to keep them and then pay for it, or to send them back and never have to put our own money out. All of the scenarios above have one thing in common, and that is that the origin of the behavior is coming from the different methods provided by the online merchant.
What is tap to phone, and what does it have to do with anything?
The tap to phone, or tap on phone as some call it, is the app that turns any Android or iOS device into a software-based point of sale. The NFC chip inside smartphones and tablets gives today's merchants a window of opportunity to ride the wave of this consumer behavior. They can now turn their mobile phones into actual POS for in-store payments. The customer will have full focus on the screen in front of them, at which the merchant can show different payment methods and then accept contactless card payments by simply letting the user tap their physical or digital card on the smartphone or tablet where the NFC chip is located. If necessary due to the amount or the customer's card settings, the merchant is able to accept the PIN entry on the same screen. That reduces all the friction that was required earlier where the merchant then had to tell the customer to look for the big terminal with a physical PIN pad if they wanted to pay with a card.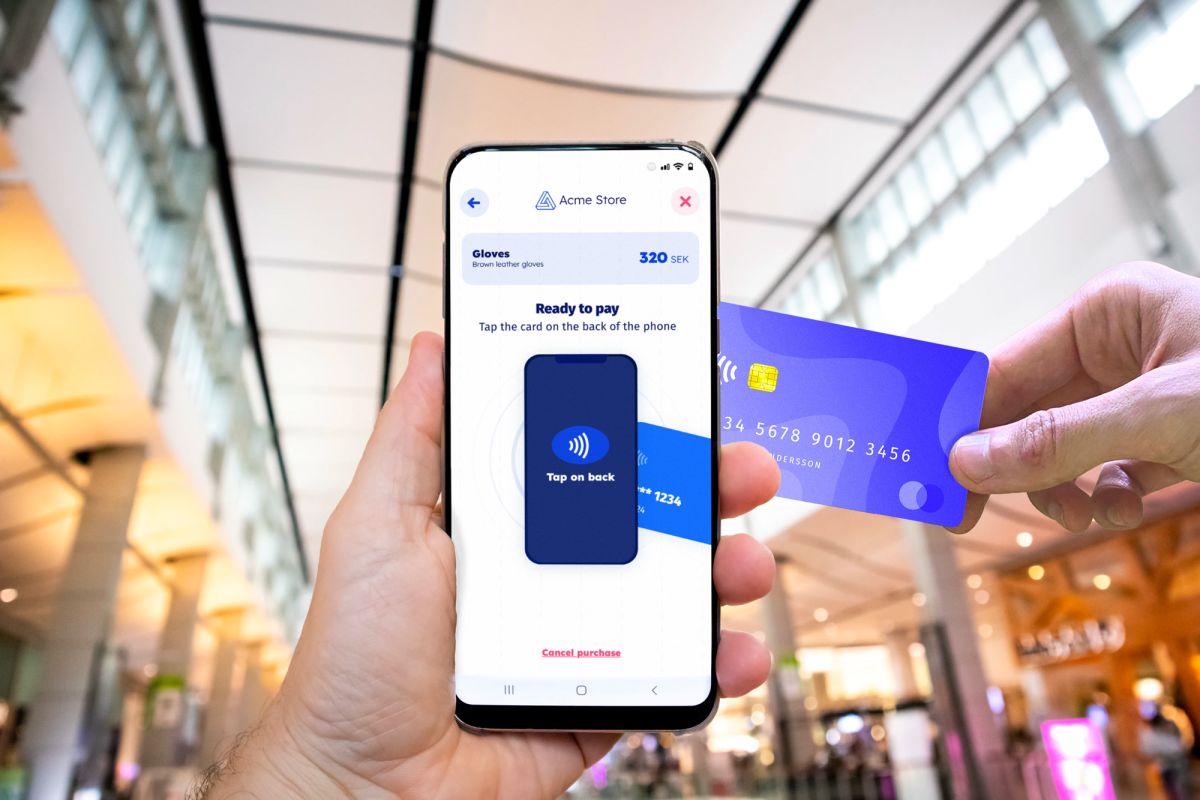 The tap to phone solution also brings out new possibilities for the merchant to leverage on. With over two million Android devices globally that could transform into payment acceptance machines, the possibilities are enormous. Tier 1 and 2 merchants could adapt to this new wave of opportunity by adding smartphones and tablets to their hardware stack and open up new ways of payments in their stores. The ease of use this brings to the merchant also enables queue busting in a totally new way. A merchant can simply add the tap to phone app to their smartphone or tablet and start moving around in the store and accept multiple payment options where the card is not excluded. To attract new customers and retain current customers it's important to meet their needs, and for a store to have the text saying "Only card accepted" or "Only Swish" (or similar local schemes for direct payments) obviously exclude some possible customers from purchasing items from the store. But this shouldn't be a problem anymore.
With a tap to phone app, any merchant can finally get rid of their old terminals and start using more modern techniques that the customers are used to from their online shopping experiences. This tap and pay method solves the needs of both merchants and customers. Merchants get an easy way to accept credit cards without investing in expensive equipment, and customers get the benefits of multiple payment methods to choose from and personal offers that they care about.
So ever since the introduction of the plastic card that revolutionized a whole world of payments when introduced, allowing for immediate payment and a paper receipt, the in-store payment industry has barely changed a bit. But the wave of change is coming and at Surfboard Payments we are already riding it. If you want to learn more about how you as a merchant can benefit from a new in-store checkout with this technology, we recommend you to surf your way to our Surfboard Checkout page » or read about our dedicated payment app that turns your smartphone into a payment terminal. We call it Surfpay, and yes - we are really proud about it. Take a look at it here »