Strengthening Bonds and Fostering Growth: The Exchange Program Between Surfboard Payments' Offices in Stockholm and Chennai
Surfboard Payments is committed to creating a diverse and inclusive work environment for our team members. One of the ways we achieve this is through an exchange program that allows team members from our Chennai office to spend several months working in our Stockholm office, and vice versa.
Last fall, three colleagues from our Chennai office in India, Rexilia, Joel, and Askin, joined us at our Stockholm office for a three-month stint. Their arrival was eagerly anticipated, as we were all excited to learn from each other and strengthen the bond between our two offices.
During their time here, Rexilia, Joel, and Askin worked closely with their Stockholm counterparts on several key projects. They were able to share their expertise and insights, and in turn, they gained valuable experience from the team in Sweden. The exchange was mutually beneficial and contributed to the growth and success of our company.
But it wasn't all work and no play for our Indian colleagues. They also had the opportunity to travel around Europe during their stay here in Sweden. Although they didn't make it to the surf heaven in Biarritz, they did visit Denmark, Norway, Italy, and other parts of France, and their experiences in each country were unique and memorable.
In Norway, Rexilia, Joel, and Askin were amazed by the stunning natural beauty that surrounded them. They hiked in the mountains, went fishing, and explored the fjords. "The scenery was just breathtaking," said Rexilia. "We don't have anything like it in India."
Their visit to Italy was all about the food. They indulged in gelato, pasta, and pizza, and even took a cooking class to learn how to make their own pasta. "The food was incredible," said Joel. "It was definitely a highlight of our trip."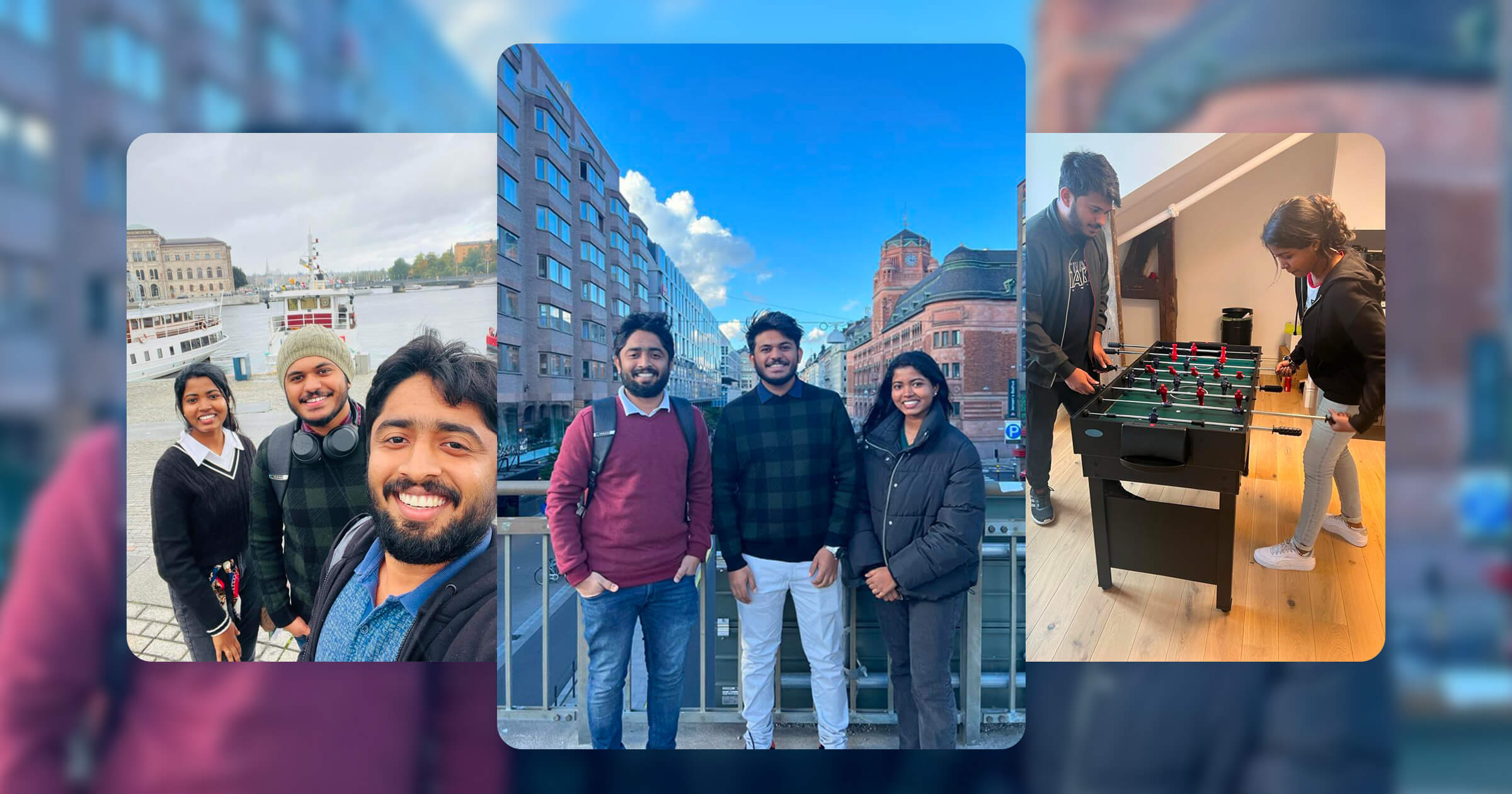 Back in Sweden, the trio had the opportunity to explore the Swedish archipelago. They took a boat tour and visited some of the islands, where they enjoyed seafood and learned about the culture and history of the region.
It was a fantastic opportunity to learn from each other and grow together.
"Stockholm is such a beautiful city, with so much greenery and water all around," said Rexilia. "It's a great place to live and work, and I felt really welcomed by my colleagues here."
Joel added, "The work culture in Stockholm is very different from what we're used to in Chennai. People are more laid-back and there's a strong emphasis on work-life balance. It was refreshing to experience that."
Askin noted that he was impressed by the level of innovation and technology in Stockholm. "There's a real focus on innovation here, and it's inspiring to see how much progress is being made in areas like fintech and sustainability," he said about their stay. "We were also able to collaborate with some of the most talented people in our field, it was a fantastic opportunity to learn from each other and grow together."
Their Swedish counterparts were equally impressed with their Indian colleagues. "Working with Rexilia, Joel, and Askin was a real pleasure," said Martin, one of the Stockholm team members. "Their expertise and insights were invaluable, and we were able to learn so much from them."
Chennai, India
Meanwhile, back in Chennai, Tim and Thomas from our Stockholm office were also on a mission to strengthen the bond between the two offices. Working in Chennai, sharing their knowledge and expertise with their Indian colleagues and learning from them in turn.
"The experience was incredibly rewarding," said Tim. "We learned so much about the Indian culture and work style, and we were able to contribute to some really exciting projects."
Thomas added, "The collaboration between the two offices has been invaluable. We've been able to achieve so much more by working together and leveraging our strengths."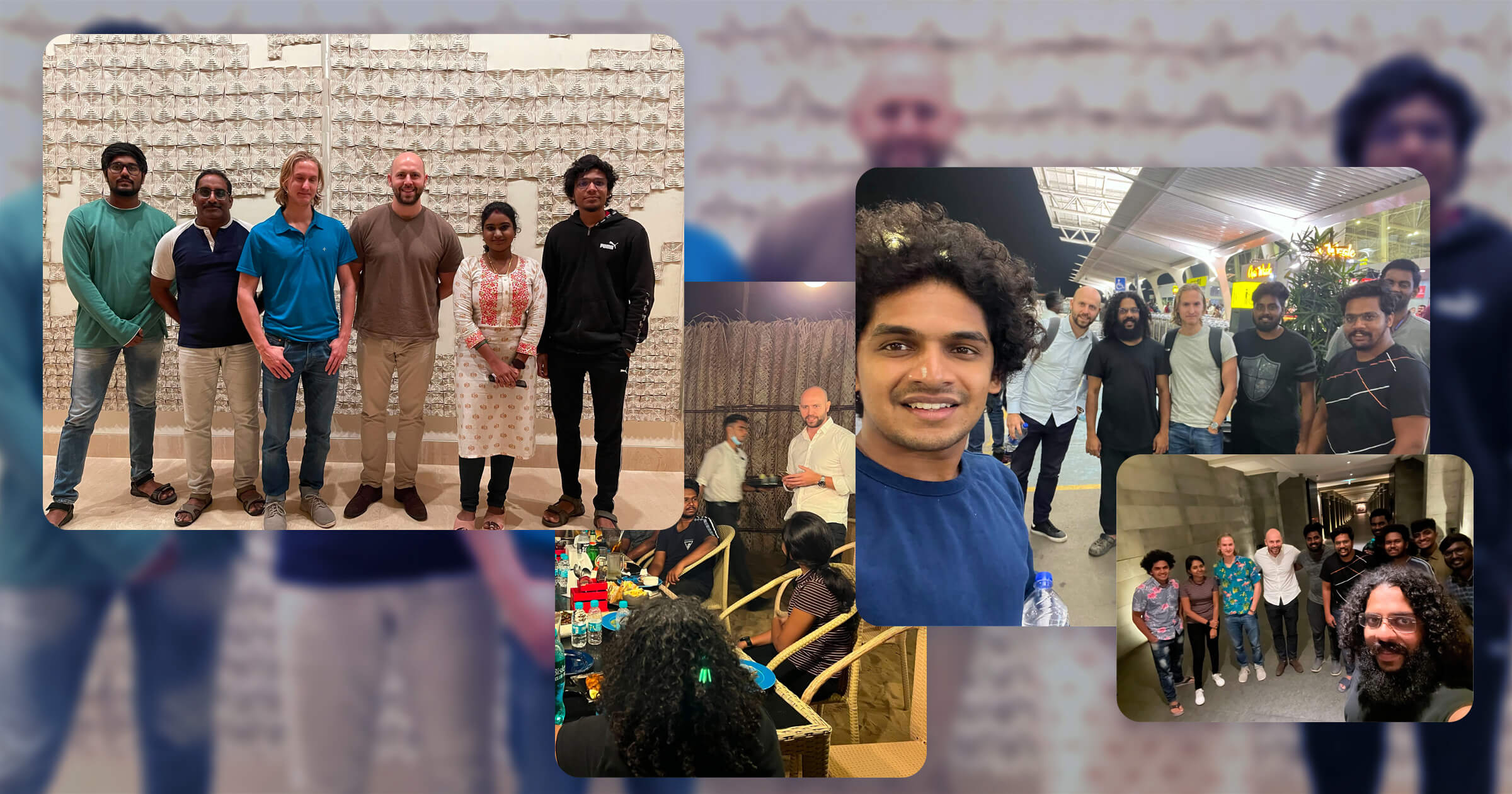 Going forward
The exchange program between our Stockholm and Chennai offices has been an incredible success, and we look forward to continuing to learn from each other and strengthen our bond. As Rexilia said, "This exchange has been a fantastic opportunity for us to learn and grow both personally and professionally. We are so grateful for the experience and the memories we've made."
At Surfboard Payments, we're committed to fostering a culture of inclusivity and building strong connections between our offices around the world. By embracing diversity and seeking out new perspectives, we believe we can build a more inclusive and prosperous future for everyone.
If you're interested in learning more about how Surfboard Payments is bridging the gap between cultures and strengthening global relationships, check out our careers page for opportunities to join our diverse team »